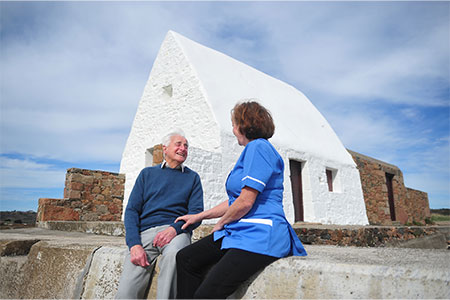 4Health Home Care is unique. The service is supported by two of the Island's leading GP Practices; Castle Quay and Indigo Medical. If you attend another GP Practice, 4Health will still be able to involve your own GP in your care.
4Health will keep all personal information confidential; however, if you wish, it can be reviewed by your own GP to enable him to keep up to date with your care.
Our professional team is led by Angela Body who has many years in nursing and home care management. Angela is responsible for managing a dedicated and experienced team of health care assistants and registered nurses who are chosen for their knowledge, skills and determination to put their clients first.
4Health will match your carer to your needs. You will be told about the specific professional and personal skills they have and you can consider their profile before they start caring for you.
Your team at 4Health will help you write your Personal Care Plan and will review your progress regularly and discuss any necessary changes with you. Our support can be delivered efficiently and cost effectively whilst at the same time ensuring respect for your dignity, privacy and safety.
We will welcome feedback from you and your relatives and friends, which will help us continually improve the care we provide you.
4 Health Home Care consider the rights of clients to be paramount, including:
Dignity
The right to dignity involves recognising the value of people as individuals and each person's particular needs. 4Health Home Care respect your individual characteristics and your specific cultural demands and requirements. 4Health will maintain relationships that are warm, trusting and appropriate to the relationship between you as the client and us as your provider of care.
Privacy
An individual's right to privacy involves being free from intrusion or unwelcome attention. 4Health Home Care maximise your privacy and ensure your records are seen only on a legitimate 'need to know' basis.
Safety
4Health Home Care make sure that help is tactfully at hand when you need it including any activities that may place you in situations of risk. 4Health also create a physical environment that is free from unnecessary sources of danger.
Independence
Wherever possible, 4 Health Home Care help you to manage for yourself rather than becoming dependent on carers and others. 4 Health Home Care strive to create an atmosphere and foster attitudes that emphasises capacities rather than disabilities.
Choice
4Health will support your choice of a carer with whom you feel comfortable. You will help to create your Personal Care Plan, which will address your specific needs.  Decide your own level of support from occasional companionship through to comprehensive 24 hour nursing care.
Fulfilment
Fulfilment is the opportunity to realise your potential. 4Health Home Care will help you to participate in a broad range of social and cultural activities. We will do everything possible to help you achieve an unfulfilled task, wish or ambition. 4Health will also respond sensitively and appropriately to the special needs and wishes of the very ill.
A member of our highly trained senior nursing team will visit you to discuss your needs and create your personal care plan.
For a free consultation contact us.